Worth Watching – ASX Rare Earth Element Plays
Listed below are the 10 main ASX -listed rare Earth Element (" REE") plays. Read this article for background on REE, what they are and what they are used for. Note that some companies, ALK in particular, have other, much more substantial projects than REE.
REE's have been topical of late as the US government seems to have realised that China controls the REE market. Thus, President Trump wanting to buy Greenland; home to several REE deposits, including that owned by Greenland Minerals.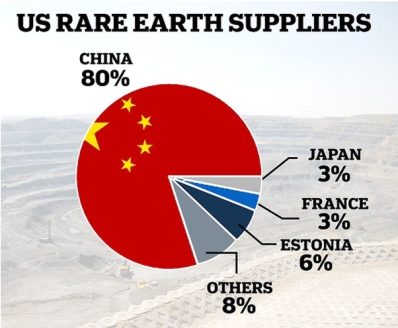 Image Courtesy Daily Mail
ASX Listed REE Stocks
Alkane Resources  (ASX:ALK)
| | | | |
| --- | --- | --- | --- |
| Share Price | Year High/Low | Shares on Issue | Market Cap |
| $0.72 | $0.865/$0.18 | 506M | $365M |
Dubbo REE Project
Resource 75Mt @ 0.74% REO
Reserve 28.9Mt @ 0.73% REO
Arafura Resources (ASX:ARU)
| | | | |
| --- | --- | --- | --- |
| Share Price | Year High/Low | Shares on Issue | Market Cap |
| $0.09 | $0.14/$0.04 | 1,000M | $94M |
Nolans Project, NT
Nd, Pr, Dy, Tb valuable, Ce, La, Y worth much less
Resource 56Mt @ 2.6% REO
Reserve 19.2Mt @ 3.0% REO
Crossland  Strategic Metals (ASX:CUX)
| | | | |
| --- | --- | --- | --- |
| Share Price | Year High/Low | Shares on Issue | Market Cap |
| $0.007 | $0.01/$0.003 | 1,000M | 7M |
Charlie Creek Project, NT
V low grade alluvials
400Mt @ 289ppm (.0289%)
Greenland Minerals  (ASX:GGG)
| | | | |
| --- | --- | --- | --- |
| Share Price | Year High/Low | Shares on Issue | Market Cap |
| $0.105 | $0.165/$0.049 | 1,100M | $125M |
Kvanefjeld Project, Greenland
Total Project 1Bt @ 1.0% REO
Hastings Tech Metals  (ASX:HAS)
| | | | |
| --- | --- | --- | --- |
| Share Price | Year High/Low | Shares on Issue | Market Cap |
| $0.18 | $0.21/$0.115 | 937M | $168M |
Yangibana Project, NT
Resource 21.6Mt @ 1.22% REO, 0.39% NdPr
Reserve 10.3Mt @ 1.22REO, 0.43NdPr
Lynas Corporation (ASX:LYC)
| | | | |
| --- | --- | --- | --- |
| Share Price | Year High/Low | Shares on Issue | Market Cap |
| $2.49 | $03.16/$1.48 | 695M | $1,734M |
Mt Weld Mine in WA, Process Plant in Malaysia
Central Lanthanide resource 15Mt @ 8.8% REO
Duncan resource 8Mt @ 4.7% REO
Lanthanide Reserve 9.9Mt @ 10.8% REO
Northern Minerals  (ASX:NTU)
| | | | |
| --- | --- | --- | --- |
| Share Price | Year High/Low | Shares on Issue | Market Cap |
| $0.051 | $0.084/$0.038 | 2,543M | $129M |
Browns Creek Project,  WA
Resource 9.2Mt @ 0.66% REO, Dy, Y, Tb
Reserve 3.3Mt @ 6.78kg/t or 0.68% TREO
Oro Verde Limited (ASX:OVL)
| | | | |
| --- | --- | --- | --- |
| Share Price | Year High/Low | Shares on Issue | Market Cap |
| $0.012 | $0.015/$0.001 | 2,000M | $24M |
Earning up to 60% of Makuutu project, Uganda
Exploration target 270-530Mt @0.04 – 0.1% REO
Peak Resources  (ASX:PEK)
| | | | |
| --- | --- | --- | --- |
| Share Price | Year High/Low | Shares on Issue | Market Cap |
| $0.044 | $0.066/$0.02 | 919M | $40M |
100% of Nguallla Project, Tanzania
Reserve 18.5Mt @4.8%REO, 21.3% NdPr
Pensana Metals (ASX:PM8)
| | | | |
| --- | --- | --- | --- |
| Share Price | Year High/Low | Shares on Issue | Market Cap |
| $0.215 | $0.32/$0.12 | 147M | $32M |
Longonjo Project, Angola
Resource 240Mt @ 1.6%REO, incl. 0.35% NdPr
Sagon Resources Limited (ASX:SG1)
| | | | |
| --- | --- | --- | --- |
| Share Price | Year High/Low | Shares on Issue | Market Cap |
| $0.053 | $0.086/$0.019 | 312M | $16M |
Cummins Range Project, WA
Inferred resource 13Mt @ 1.13% REO