Australia's Superb Housing Bubble
This is one of the biggest bubbles in the world, in any sector. By any metric, Australian residential real estate is off the chart. We are approaching "blow off" territory.
The Australian median house price to income ratio is around 7 nationally and approaching 9 in Sydney. The median house price in Sydney is around $800,000. In Melbourne, the other large Australian city, it is around $700,000.
The chart below shows Australian house prices in real terms against Britain, US and Germany. Not a pretty sight.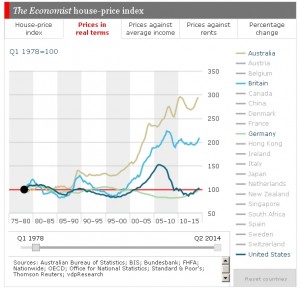 Chart Courtesy of The Economist
Of course real estate boosters say prices are high, because the population is growing so fast, that new dwelling commencements can't keep up. That is not so. The chart below shows the steep trend of approvals over the last couple of years. I live in Sydney and have never seen so many construction cranes on the skyline. In the Inner West, a popular part of Sydney at the moment, just about every street has old homes being demolished and replaced by McMansions.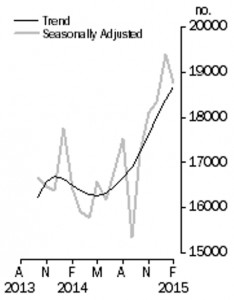 Chart Courtesy ABS
Anyway enough of the data. The examples below are worth a thousand words.
The tiny terrace in the middle (row house) below sold for $3.2m last Saturday. It is located in trendy Surry Hills, Sydney, a suburb 2 kilometres south of the CBD. The week before, a single story terrace in the same suburb, a little larger than a garage, sold for over $800,000.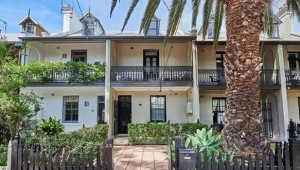 Photo Courtesy Domain
One more example. A shack in Gladesville, an average Sydney suburb, sold for $2.85M ; $1.1m over the reserve price. Even seasoned real estate veterans were aghast.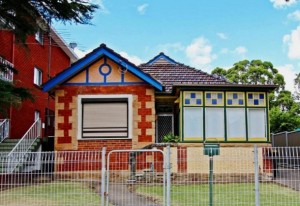 Conclusion
These stories are common throughout Australia, particularly in Sydney and Melbourne. Such prices do not relate to any sort of intrinsic value. Rather, they are being driven by investors, both domestic and foreign, that do not see any superior investment opportunity. But of course, Australia is the "Lucky Country" (read more on Donald Horne's "The Lucky Country"  here), so everything is (supposedly) just fine.
This is a classic bubble scenario. No faith in "fiat" cash, uncertain share market returns, where else to turn? Buy property. After all – "they are not making it any more".
The only meaningful growth industry in Australia is residential real estate. The future looks glum, although Australia's Central Bank will certainly press the print button when property comes off the boil.
I recommend keeping the powder dry, opportunity will come.